Brandon Cortino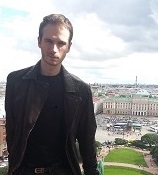 Brandon Cortino is a recent graduate of the GJS department with degrees in International Criminal Justice, International Political Science, and Global Studies with a concentration in the Middle East, and a minor in Russian language. While fulfilling the internship requirement for his Criminal Justice degree, Brandon had the opportunity to investigate a cold case serial killer from his hometown. Originally from Hickory, North Carolina, he was the first Appalachian State student to be involved in a summer study abroad in the recently developed partnership
with Novgorod State University in Russia, and one of two Appalachian State students to complete a full year exchange program there. He is currently studying at Saint Petersburg State University taking specialized Russian language classes and is in the most advanced language group publically available.
In fall of 2017, he will begin studying for a Master's in International Security at NC State, and afterwards plans to work in a governmental capacity using his Russian language ability.
Hanna S. Fox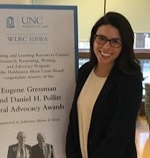 Hanna is in her second year of law school at the University of North Carolina at Chapel Hill. She is ranked within the top third of her class, and is a competing member of the National Moot Court Team, as well as a staff member on the First Amendment Law Review. She spent her first summer job with the North Carolina Department of Justice in the Law Enforcement Liaison Section preparing appellate briefs, conducting legal research, and compiling the 2016 Legal Update for law enforcement. Hanna says that participating in the Government and Justice Studies Honors Program as an undergraduate helped to prepare her for the challenging content and workload of law school, and also provided her an opportunity to develop relationships with some of the department's incredible staff.

Olivia Sing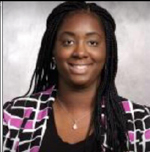 Olivia is currently pursuing dual degrees for her Juris Doctor and Masters of Public Administration at North Carolina Central University. She admits that both of these programs have been very challenging and humbling at the same time. Attending North Carolina Central Law School has been an amazing experience for her. Throughout this experience, she has gained analytical, research, and legal writing skills. Law school has increased her ability to persuasively argue key facts within a case. According to Olivia,lawschool has been very demanding, so it was imperative to buckle down and study. Completing her first year at NCCU Law has provided her with a plethora of skills that she will build on in her upcoming academic work, mock trials, and legal cases. Ideally, she plans to become a Criminal Defense Attorney.
2014 Honors Thesis: Racial Biases Within Justice and Equality
David DiMaggio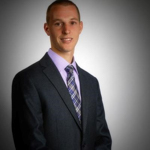 As a former honors student in the Department of Government and Justice Studies at Appalachian State, David has chosen to work within the judicial system as a District Attorney Legal Assistant. This career allows him to apply in-class concepts to real world issues on a daily basis. He works collectively with every branch of the justice system (i.e. law enforcement, corrections staff, and probation officers) to provide services for victims, witnesses, and defendants. David works closely with Assistant District Attorneys to process an assortment of felony cases, research case law, and assist in Superior Court proceedings and trials. He has assisted in the adjudication of all classifications of crime, from general misdemeanor offenses to felonies ranging from class I drug and property offenses to violent kidnappings, sex offenses, and capital murders. David says that he has found closure and justice for victims to be a highlight of his work, and enjoys working with the top attorneys to ensure the safety of the community he works in.

Megan Saxton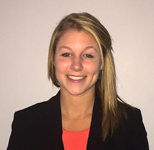 This summer Megan was offered an incredible opportunity to work as an honors intern with the Federal Bureau of Investigation at their Charlotte headquarters. She was assigned to the gang squad, where she assisted federal agents as well as other state and local agencies with cases involving gangs around the area. Every day was filled with unique and different opportunities. Although my exact duties are confidential, some of the responsibilities involved updating target files and assisting agents with their cases. As an FBI intern, Megan learned the daily duties of an FBI agent. She also learned how federal cases work, the role of the federal courts and the US attorney's office within the Bureau, as well as the role of the FBI among state and local law enforcement agencies. Her coworkers at the FBI were welcoming and available to answer any questions she had and to expose her to all aspects of their duties. Fortunately, this internship can continue as a part-time position throughout the school year, as she has the intent to work full time for the bureau after graduation. This internship has confirmed that this career path is the right one for Megan and she is excited to see where she will go within the bureau. Megan says that she is thankful for the GJS department at Appalachian as well as the wonderful faculty that has continuously encouraged her throughout the past three years to pursue a career at the federal level with one of the top law enforcement agencies in the world. Megan says that she would encourage all students who are interested in the FBI as a potential career to apply for their honors internship today (on FBIjobs.gov) or to reach out to her if they have any questions.

Jessica Berkowitz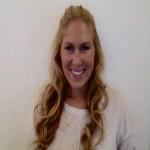 Jessica is currently in her second year at Vanderbilt Law School. This past summer, she worked as a Law Clerk at the U.S. Attorney's Office for the Middle District of Tennessee, working mostly with attorneys in the White Collar Crime and Affirmative Civil Enforcement sections. She will be spending next summer as a Summer Associate at a law firm in Dallas, TX. At Vanderbilt, Jessica is the treasurer for the Women's Law Student Association and the Jewish Law Student Association, as well as, a member of the Vanderbilt Law Review.

Courtney Bradway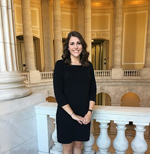 Currently, Courtney is a Hill Staffer for Congresswoman Renee Ellmers (NC-02). She serves as the Staff Assistant which includes driving the Congresswoman, publishing the daily press briefs, handling constituent inquiries and concerns, coordinating and leading Capitol tours, and drafting constituent response letters.
2015 Honors Thesis: The Rehnquist and Roberts Courts' Treatment of Criminal Procedure