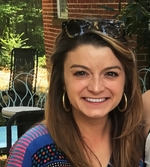 Eloise Hincker graduated in 2015 with a degree in Political Science with a minor in English. She enrolled in the Accelerated Program and received a Master's of Arts in Political Science in 2016.
Eloise is currently a Writer and Account Manager at Creative Direct. Creative Direct is a direct mail firm serving clients and campaigns across the country, from Members of Congress to candidates for statewide or local office. In her current role she writes, designs, and edits campaign mail, literature, and Congressional franked mail as well as helps decide which voters to target with these mailers. To see examples of the company's previous work and clients visit creativedirect.net.
She Recalls, " I did not realize it at the time, but the writing-intensive nature of the MA program helped refine my writing skills tremendously. Strong communication skills are such a marketable asset in the campaign world and those skills helped me land the job I have today. A large part of my job is also analyzing polling data, so the undergraduate and graduate research methods classes were also a huge help.
I have so many great memories from my five years as a GJS student at App, but I would have to say the highlight was the overall sense of community between the graduate students and the professors. Professors would invite students over to their houses for dinner or would bring food to class, which let us know they cared about us as people, not just as students. This made it easier to speak up in class or approach professors with questions. We were there to learn, but we definitely had some fun along the way."