Doug Middleton was impressing the New York Jets with his playmaking skills last summer when a torn pectoral muscle sidelined him for the season.
The young safety refused to wallow in disappointment. He hit the books — and his rehabilitation — with fierce determination.
Nearly a year later, Middleton has a master's degree in public administration from Appalachian State on his resume. He also created a nonprofit in honor of his best friend who took his own life last summer. And, he's having another terrific training camp while competing for a job in Todd Bowles' secondary.
"Yeah, I'm proud, very happy," Middleton said after a recent practice. "I mean, pretty much all that came from me starting my foundation and me having a position whenever football does come to an end, I'm pretty much taken care of. It just handled a lot of different things for me and just made me feel comfortable and more at peace when I'm out here now."
The 24-year-old Middleton graduated from Appalachian State in May 2015 with a bachelor's degree in political science. He entered the graduate program during his redshirt senior year and started chipping away at his master's with a concentration in town, city and county management.
When he got hurt in the Jets' preseason opener against Tennessee last August, Middleton wasted no time coming up with a game plan.
"It was pretty crazy," he said with a big smile. "In the offseason before my second year, I finished my second semester in the program. Once I got hurt, I asked Coach Bowles pretty much the day after they said I was going to be out for the season, I was like, 'I want to go home and finish my master's.'
"He said he was cool and told me to just go back home and rehab there and finish school."
So, Middleton headed to North Carolina and drove what he estimates was about 1,000 miles a week between his home in Winston-Salem to rehab in Charlotte and classes in Boone on campus at Appalachian State.
He spent several hours a day trying to get his body healthy again for football. And, then he was putting in lots of classroom work to earn his master's degree. Middleton also secured an internship with the city of Charlotte and Charlotte Water.
"A lot of people looked at it like, 'Oh, he's on IR. He's got a vacation,'" Middleton said. "It wasn't really like that."
Not at all.
Middleton worked with the chief financial officer of Charlotte Water during his internship, regularly taking part in budget meetings. Charlotte Water supplies water to the city and its municipalities, so Middleton had to make sure that guidelines were being followed and helped work on the next budget for the city.
The experience was invaluable to Middleton, who received his master's in May and wants to be a city manager when his football career ends.
Oh, and get this: He's already working on getting his second master's from Appalachian State, this one in finance.
"I came up with this plan about halfway through my senior year," Middleton said. "I started in the accelerated program for my MPA and I just always had it in the back of my head that you can't play football forever. No matter if I play 10 years or two years, whenever it happened and came to an end, I'd be on my feet and ready to go. That's what it's all been about. I still hope to play 10 years and whatever happens in between, I can really sit back and just enjoy football now."
He's certainly playing that way.
Middleton, signed as an undrafted free agent in 2016, has been a consistent standout during practices this summer while filling in for the injured Marcus Maye with the starters early in camp and also working on special teams.

"Before he got hurt (last year), Doug was coming on," Bowles said. "Obviously, he's a swing player — he can play both (safety) spots. Any time you're a swing player, that makes you valuable. He's just in the right space at the right time."
Middleton has also been motivated by the memory of his childhood buddy A.J. Morrison, who killed himself a week before the safety reported for training camp last summer.
Middleton spoke at the funeral, which was the day before he had to report to the team.
"There were a lot of mixed emotions while trying to focus on camp and getting ready for my second year," he said, "but at the same time, I was grieving the death of my best friend."
He got on a plane later that night and headed to New Jersey to join his teammates. But, Middleton knew he needed to do more.
Last December, he established the "Dream The Impossible" initiative in Morrison's memory to help promote mental health awareness. He set up a Christmas event during which 32 disadvantaged kids were provided with holiday gifts and dinner while also learning about mental health. It earned him one of the NFL's Community MVP awards last season."He fights battles that he doesn't even know and he helps people he doesn't even realize," Middleton said of his late friend. "It may sound bad, kind of, but his life has helped so many other people and is going to continue to help so many people. He's had a very positive impact on this world."
Middleton is working to do the same — on and off the field — while also trying to serve as an example to youngsters.
"I try to find the positive in every situation, as you can tell," Middleton said with a big smile. "No matter what it is, I just try to roll with it and figure it out."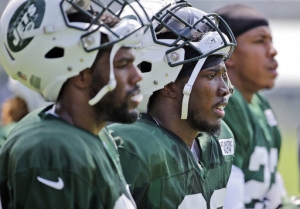 Tags: