Departmental Fellows
The GJS Fellows Program is a highly selective program which includes 12-15 of the most outstanding students in the Department of Government and Justice Studies. Fellows are nominated by faculty and then selected by a committee of faculty. Fellows are provided unique opportunities to engage with faculty and serve as representatives of the Department.
Abby Merrill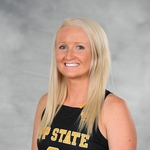 Abby Merrill, is a junior Political Science major with a concentration in Pre-Professional Legal Studies from Hampton Falls, NH. She chose AppState because of the Pre-Law program's outstanding reputation. She notes,"The GJS pre-law program includes a wide variety of courses that really broaden your horizons and challenges your thinking. The faculty are very helpful and want to support you through your journey at AppState." Outside of academics, Abby is involved in numerous campus organizations including the Student Conduct Board, the Vice President of Phi Alpha Delta, and the varsity Field Hockey Team.
Lorena Calvillo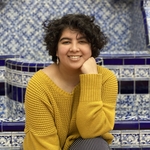 Lorena Calvillo is a senior majoring in Political Science with a concentration in International and Comparative politics. Lindsay says she is studying International & Comparative politics to gain a better understanding of our world and how to create change. Following graduation, Lorena hopes to continue her work as an activist and to continue to work with community organizing. She is also considering applying for the Peace Corps or with Greenpeace.
Molly Thomas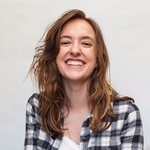 Molly Thomas is a rising Senior at Appalachian State University double majoring in Political Science and English Literature. After graduation, Molly plans to pursue a Masters in Political Science and then pursue a career in the non-profit sector. Molly also serves as the prose editor for The Peel Literature and Arts Review, a club on campus that publishes student art, music, poetry, and prose. Molly offers this advice for prospective students: " The faculty in the GJS department are some of the most intriguing and helpful people I've encountered in my experience with academia. They are always extremely present for students and truly want you to succeed. I would also highly recommend taking advantage of the trips that the GJS department takes because they offer amazing opportunities for hands-on learning, and to get to know students and faculty in the department better."
Connor Malmstrom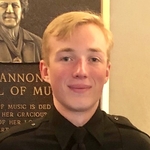 Connor Malmstrom, is a senior majoring in Criminal Justice with an International Studies Concentration. Currently a part-time officer in the Appalachian Police Department, Connor completed the Basic Law Enforcement Training in 2019 through App State's Police Development Program. Having been a mascot for the Kannapolis Intimidators baseball team, he went from a green costume to a badge and uniform in less than four years. Asked why he chose Criminal Justice, he said "it provides a great foundation for entering the criminal justice system as a law enforcement officer," and that the program provided him with opportunities to discuss and truly think critically about a variety of important criminal justice issues and his career.
Sarah Lanier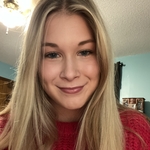 Sarah Lanier is a junior criminal justice major but started her AppState career in the Biology department major in molecular biology. She developed an interest in Criminal Justice because of the tremendous opportunities the field provides individuals to help and support their communities. "From what I have experienced, most GJS students want to help others and serve their community while in school and after graduation. For many students it is about something bigger than themselves." After graduation, Sarah is planning to pursue a career in law enforcement with the ultimate goal of working for the State Bureau of Investigation. Her advice to incoming students is to be involved in the community while in school and after.
McKenna Feid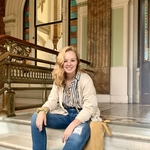 McKenna Feid is a junior Political Science major with a concentration in International and Comparative Politics. Her interest in political science is owed to her father who is a history teacher. McKenna notes how her father taught her to appreciate history and what it can tell us about our present condition and how we relate to one another. This perspective, she notes, "has lent itself well to the study of international affairs, as it is crucial to understand the histories and motivations of others in order to foster cooperation and peace." Following graduation McKenna plans to hike the Appalachian Trail before starting graduate school to complete a master's in Foreign Service with the career goal of becoming a diplomat specializing in conflict resolution. McKenna spends her free time as a musician, singer, and songwriter. "My mind may be in the books, but my heart is in the music. . . . Music, in my humble opinion, is the best thing in the world and will forever be my favorite way to keep myself grounded."
Haley Phillips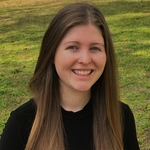 Haley Phillips is a senior Political Science major with a concentration in Public Administration. She is also currently pursuing a Masters in Public Administration (MPA) through Appalachian's 4+1 program. Haley has been a member of the AppState Marching Band and Club Ski Team. Haley has been awarded three scholarships through the Department of Government and Justice studies including the Matt W. Williamson Scholarship, the Robert G. Hester Local Government Scholarship, and the Dr. David Sutton Scholarship. Discovering the Public Administration program at App allowed Haley to " learn about all the good a person can do through public service." After obtaining her MPA , Haley hopes to work in local government.
Hayley Lynch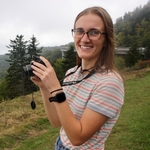 Hayley Lynch is a senior majoring in Criminal Justice and minoring in Psychology. She was awarded the AppState Winston Salem Police Department scholarship and will be joining their Police Department following graduation. A native New Jerseyite with a love for caring for animals and a fiendish dedication to CrossFit (she has completed 3 Spartan Races), Hayley pursued a major in Criminal Justice as a way to give back to her community, and to protect the lives of those who need it most. When asked what she would tell a prospective student, she said "the GJS Professors go the extra mile to get to know each of their students on a personal basis to help them throughout their time at Appalachian."
Kaitlyn Heinze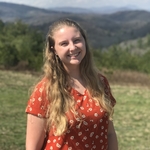 Kaitlyn Heinze, is a senior majoring in Criminal Justice and is the founder and president of AppState's club softball team. With an interest in the workings of the Criminal Justice system since childhood and a passion for helping at-risk youth, her choice in the major was a natural one. With an eye towards learning from others' experience, Kaitlyn recommends making use of the department's kind and helpful professors who bring a wide range of experiences to the classroom.
Maria Swords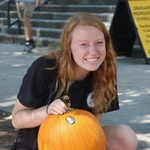 Maria Swords, is a senior Political Science/Public Administration major with a penchant for sewing and statecraft. She came to AppState wanting to go into the legal profession. That was before her appetite for advocacy was developed with the help of a friend and some time in Haiti. During her trip to Haiti, she found a passion for people, the world, and policies that can protect them both. Maria found her Public Administration concentration allows her to run with her ideas and passions, even when they are outside the focus of department. Studying subjects like Public Health and Global Studies, she has built a multidisciplinary education to prepare her to face multidisciplinary challenges. Inspired in part by the people she met in Haiti, she is planning to intern with the International Headquarters for Cru, an interdenominational campus ministry after her graduation. She plans to pursue a leadership position with a large public health or humanitarian aid non-profit. With an arsenal of experiences and an education built to spec, she feels she is prepared for the tasks she has set for herself.
Maddy Siever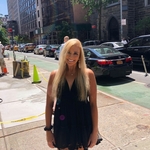 Maddy Siever is a senior Political Science major concentrating in Pre-Law with a minor in Criminal Justice. Maddy was born in Alberta, Canada and then moved to the United States and was granted American citizenship in 2018. Following graduation Maddy plans to attend law school. She notes that her personal experiences with the immigration process introduced her to both the legal and technical procedures required to obtain U.S. citizenship and hopes to use this experience to help others aspiring to obtain American citizenship. Madd notes, "what separates GJS from other Departments is the extraordinary faculty who are always willing to be proactive and go out of their way to make themselves available to students. I feel my GJS professors truly care about our success and are dedicated to ensuring their students have the tools to succeed. This dedication was on display when we moved to online classes due to the coronavirus. Each one of my GJS professors, although not physically there, made it very clear they were still available to help students. Transitioning an entire course to online methods within a week, I don't doubt, was a difficult task and the professors in this department took this on with positivity."
Paige Skinner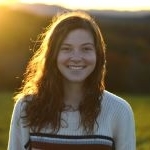 Paige Skinner is a senior political science major with a concentration in Pre-Professional LEgal Studies. A high school civics and economics class led her to discover her love of political science. Following graduation Paige plans to attend law school and pursue a career in the legal field. She is fortunate enough to have visited 20 countries and believes these experiences abroad and exposure to different cultures will impact her work as in the legal field. Paige offers this about her experience in GJS: "I would say that the faculty are amazing! They work so hard to help their students achieve their goals and reach their potential. They are truly there for you every step of the way."
Lindsey Scott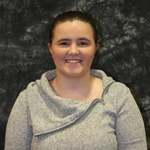 Lindsey Scott is a junior double majoring in criminal justice and psychology. She is a first generation high school graduate and first generation college student. Lindsey chose to major in Criminal Justice because of her interest in helping at risk juveniles. After graduation, Lindsey plans to gain a few years of experience working in the Criminal Justice field and then to pursue a graduate degree.
Jenna Kubiak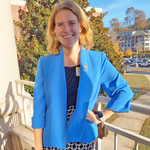 Jenna Kubiak is a trombone playing junior majoring in Political Science with a concentration in American Politics. Following graduation, Jenna plans to attend law school and then will pursue a career in politics (#Vote Kubiak for President 2028)
Outstanding Seniors
Outstanding seniors are selected each semester by the full-time faculty of Government and Justice Studies to represent each of the concentrations within the Department.