As the first recipient of Appalachian State University's National Pan-Hellenic Council (NPHC) Divine Nine Leadership Award, Travian Smith is gaining valuable experience to pave the way toward a career in government as a public servant.
The NPHC — often called the "Divine Nine" — comprises nine historically black Greek-letter organizations, seven of which have chapters on Appalachian's campus.
The $1,000 scholarship is a newly established annual award designed to provide developmental support for students to become leaders in their organizations, communities and professions. It was funded through money raised for Appalachian's NPHC Plots and Garden project under the leadership of Susan Branch '99, secretary of Appalachian's Board of Trustees; James "J.T." Tolliver '96, co-chair of the NPHC fundraising subcommittee; and James "J.K." Reaves '93, a member of the Appalachian Foundation Board of Directors.
More than 100 donors from each NPHC organization at Appalachian — as well as many others — contributed to the NPHC Plots and Garden project and the award endowment.
Smith, a member of the Kappa Alpha Psi Fraternity, is a senior majoring in political science, with a concentration in public administration, and minoring in community and regional planning. He intends to use his award funds to attend the American Planning Association's national conference in Houston in April 2020.
While at the conference, Smith will meet professional planners from all over the globe, said selection committee member Brian McCullough '89 '98, regional director of development in Appalachian's Division of University Advancement.
"Travian will gain valuable insight and real-world knowledge on current planning trends and will bring this knowledge back to present to the Appalachian Community," McCullough said. "Most importantly, he will get to network with experienced professionals and develop relationships that will foster collaboration and input with his future studies. I am really excited about what lies ahead for this young man."
Smith said he developed an interest in urban community planning after noticing the impact of gentrification — the renovating of homes and businesses within a deteriorating district to conform to middle-class taste.
"Although gentrification benefits society and contributes to the economic development in a community, I see it as an unfair approach for lower socioeconomic citizens," he said. "I want to make an impact on my community by working to prevent gentrification from taking place in communities that are vulnerable."
"I chose to come to Appalachian because I wanted to immerse myself in a community unlike where I grew up — in the city of Charlotte — so I could learn to excel in a different environment," Smith shared. "I had never spent time in the mountains and wanted to experience a different culture. Appalachian is filled with such friendly people who are eager to help me."
While at Appalachian, Smith has gained experience as an advocate. He served as a freshman class senator in Appalachian's Student Government Association and is currently on the executive board of Appalachian's Alternative Service Experience (ASE) program. Smith is also a peer leader for ASE, educating program participants on social justice issues such as poverty, environmental justice and disparities faced in the community.
After graduating from Appalachian, Smith plans to pursue a year of service working in AmeriCorps, a volunteer organization addressing critical community needs. He said he then hopes to continue his education by either pursuing a master's degree in city and regional planning or earning a law degree focusing on public interest.
By Jan Todd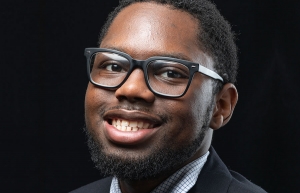 Tags: